I'm fascinated by the sheer volume of information on the Web.
Many of us are at least partly familiar with the "Wikipedia effect" (captured succinctly below by xkcd's Randall Munroe). You start off on one, well-intentioned search, and minutes (or is it hours? or is it days?) later you've found yourself reading up on something completely unrelated. It's hard to say what causes such scattered thinking: part of it is interest, certainly, but there's more to it than that.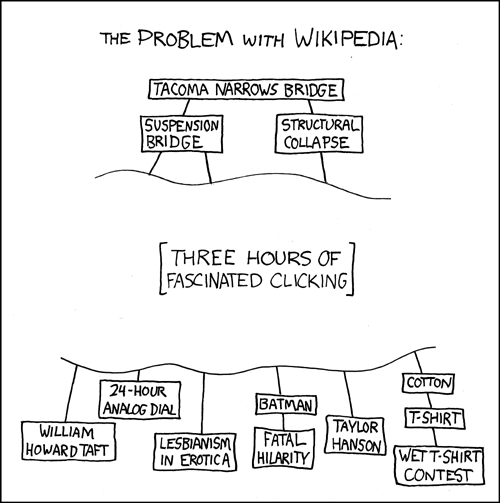 There seems to be something intrinsic about the nature of Web-based information that allows for such a freeform approach to learning new things. Decades ago, when television allowed us to flip channels and potentially explore new (and unrelated) things, we remained hooked in to the whims of the channel operators. We might discover something new on the cooking channel, but it was dictated largely by whatever the cooking channel happened to have on. For those of us who grew up without cable– wow!– that cooking channel might not even exist.
Now, of course, things are radically different from the various forms of entertainment and knowledge accessibility our parents and grandparents enjoyed. Virtually all information online is put on equal footing (though it might be filtered and condensed by blogs and Google) and there are no barriers to discovering content that might previously have been hidden for nationalist, cultural, lawful or ideological reasons. This is an open ocean, and we rely far more on others to direct our attention.
continue reading
"If we change what surrounds you, we can change you", says Madeline Gins, designer of this strikingly bizarre home. Bright, unusual colors, mountains in the living room, misaligned power outlets, and uneven surfaces make even mundane tasks into a challenge. The idea behind building such a monstrosity? Those constant challenges help keep your body and mind in a state of alertness, prepping them for stress and keeping you focused in the present. Nothing is simple; therefore, nothing becomes automatic.
A man who volunteered to stay in the house, known as Bioscleave, described the experience as a continual effort. "Constantly you're getting this contrasting information. [...] You either collapse, or you have to figure it out a different way."

The team of Gins and her assistant, the artist Arakawa, have spent four decades studying ways "architecture might best be used to sustain life," according to their website. That's all well and good, but does constant confusion really help boost the immune system as they claim?
Are Gins and Arakawa just nuts, or are they on to something? Let me know what you think in the comments.
(via Wired)